Be Seen. Be Safe. In the Open Water
These Events Trust Swim Buddy
Always Swim Open Water With a Swim Buddy
A Swim Buddy makes you more visible to boaters, jet skis, kite boarders, sail boarders, kayakers and water skiers. Knowing that you will be more easily seen, and have something to hang on if you need a rest, will relax you and improve your swim confidence.
Get Noticed
Although swimmers in open water are usually 80% submerged and hard to notice between swells, especially while wearing a black wetsuit, it is hard not to notice a brightly coloured buoy bobbing on top of the water, whether it fluorescent orange, green, pink or yellow. Want to be seen in open water? Take a Swim Buddy with you.
Buy a Swim Buddy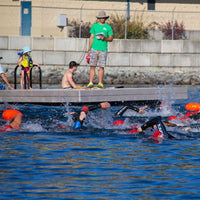 Get Followed
When you have your Swim Buddy attached to you, we can all keep an eye on you, whether your friends or your family, or even your coach. And just ask any open water swim Race Director who has made Swim Buddy use mandatory for their races - they give tremendous peace of mind for those charged with keeping all of their participants safe.
Buy a Swim Buddy
Bring Your Stuff With You
The 28L Swim Buddy not only has two separate air chambers for added floatation security, it also has a third chamber that can be used as a dry bag, so that you can bring your stuff with you, whether that's a towel, your flip-flops, a change of clothes, or your keys. Pretty convenient.
Buy a Swim Buddy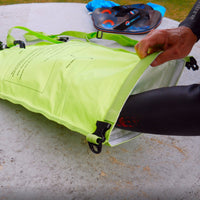 Take a Break If You Need To!
Since a Swim Buddy has two separate inflatable air chambers, it can provide significant floatation for just about anyone if you need to catch your breath, readjust your goggles, reassess your direction, or pause your swim for any reason. Just swing it around in front of you, and tuck it under your arms—you can hang there as long as you like. And although it is not officially considered a "lifesaving device", it can certainly help anyone keep their head above water when used like this.
Buy a Swim Buddy
Improve Your Confidence
Using a Swim Buddy can help you get comfortable swimming in open water, and thereby grow your confidence and your abilities in a whole new environment. And as open water swimming becomes second nature to you, you may find it meditative, even transcendent, as you embrace your ability to succeed at, not only open water swimming, but almost anything you put your mind to.
Buy a Swim Buddy